Socketweld Pipe Fittings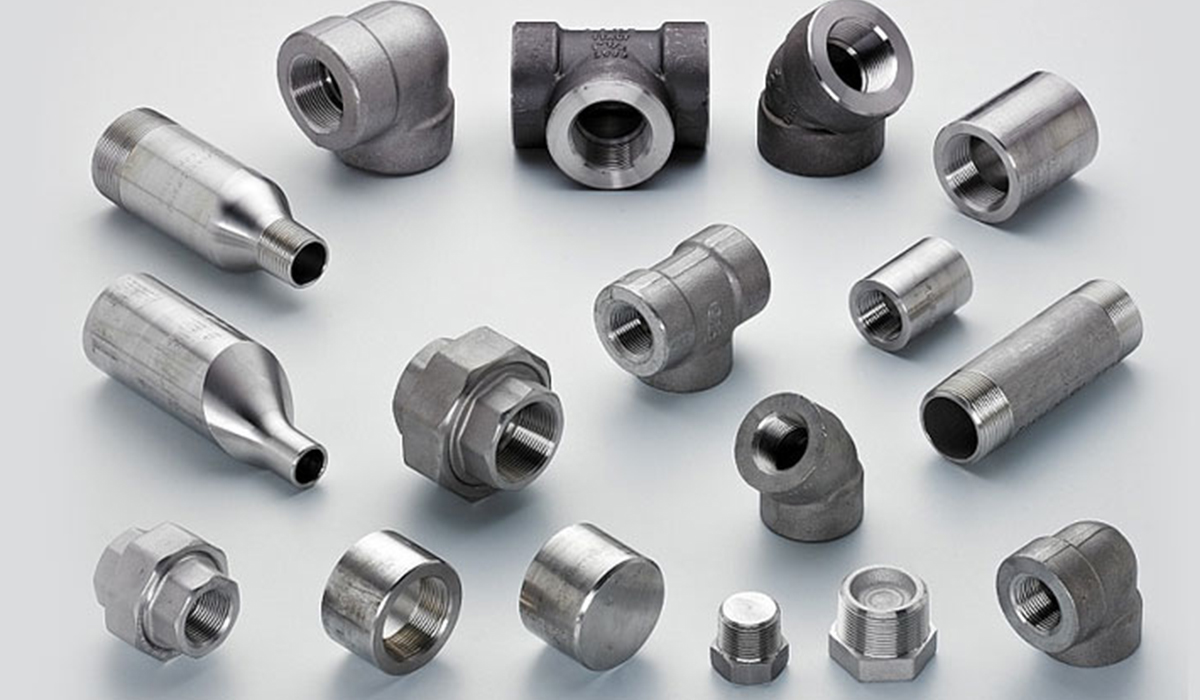 Attachment Weld Fittings offered is made accessible by Padmavati Steel and Engg. Co. Including square head, these fittings can be made accessible in industry models, for example, ASME, ANSI, NACE and others in weight taking care of abilities of 2000lbs, 3000lbs, 6000lbs and others. Some of its different elements incorporate alternative of attachment weld and strung end, decision of other distinctive levels like 309H, 310S, 310H, 316TI, 316H, decisions of OEM development and others.
We offer to our customers uniquely outlined produced pipe fittings. We likewise embrace new undertakings according to the drawings and particulars of the customer for fashioned fittings. The item is conveyed in a brief timeframe outline. We offer extraordinary produced funnels fittings in various metals which discover application in different ventures. We can offer fashioned fittings in taking after materials of development:-
Nickel and Copper Alloy
Stainless Steel
Carbon Steel
Alloy  Steel
Padmavati Steel and Engg. Co. is one of the principle producers and exporter of Socketweld Fittings that are expected to relate the channels by welding on the site at its end on the planet. We are included with making a wide combination of socketweld fittings of Stainless Steel(ASTM A182),Carbon Steel( ASTM A169),Alloy Steel(ASTM A182).
Our items are open at sensible cost and are significantly common in nation and overall market. Our claim to fame of establishment is made by ace bundle with the use prevalent quality material and advance technology.Our things have extraordinary components like high versatile strength,corrosion resistane and longer durability.
HIGH NICKEL ALLOY FORGED FITTINGS
Monel, Nickel, lnconel, Hastelloy, Copper, Brass, Bronze, Titanium, Tantalum, Bismuth, Aluminium, HighSpeed Steel, Zinc, Lead,etc.
STAINLESS STEEL SOCKET WELD & THREADED FITTINGS
ASTM A182 F304/304L/304H/316/316 /317/317L/321/310/347/904L etc.
CARBON STEEL FORGED PIPE FITTINGS
ASTM A105/A694/F42/46/52/56/60/65/70/A350LF3/A350 LF2
ALLOY STEEL SOCKET WELD & THREADED PIPE FITTINGS
ASTM A182 F1/F5/F9/F11/F22/F91 etc.
SIZE :
1/4"NB T0 4"NB.(Socketweld & Threaded)
CLASS :
3000#, 6000#, 9000#.
PRESSURE :
1000#,2000#,3000#, 6000#,9000#
TYPES :
Elbow, Tee, Union, Cross, Coup Bushing, Plug, Swage Nipple, Welding Boss, Hexagon Nipple, Barrel Nipple, Welding Nipple, Parraler Nipple, Street Elbow, Hexagon Nut, Hose Nipple, Bend, Adapter, Insert, Weldolet, Elbowlet, Letrolet,etc.
Our Exports:
Padmavati Steel and Engg. Co. Exports Socketweld Pipe Fittings in Gulf Countries of Kuwait, Bahrain, Iraq, Oman, Qatar, Saudi Arabia and the United Arab Emirates (UAE) furthermore in Eupropean nations of Netherland,Italy, Norway, Slovenia, Spain, Sweden, Switzerland.Also in districts, for example, United States Of America, United Kingdom, Australia, South Africa, Mexico, Turkey, France, New Zealand, Angola, Congo, Kenya, Lebanon, and so forth
OUR SUMMARY:
Reviewer
Padmavati Steel & Engg. Co.
Review Date
Reviewed Product
Author Rating